Dedication to moms, newborns make June Carrara first-ever President's Award honoree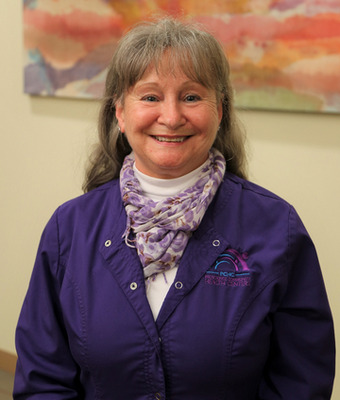 June Carrara, RN, has been working in pediatric nursing with the Providence Community Health Centers for 28 years. This means she has cared for newborns who decades later are in her care again as they deliver their own children. It is those relationships that June, the first-ever recipient of the PCHC President's Award, values the most.
"Every day, I get to spend one-on-one time with new mothers and babies," said June, who has been our Newborn Nurse Coordinator since 2003. "This quality time is not always the case for providers today so I'm excited to be one of the first people in the room to get the child and mother off to a good head start."
June is a critical link between newborns, their families, Women & Infants Hospital, and PCHC. She delivers newborn education, records prenatal histories, and provides documentation in the medical record. June credits community health advocate Yohana Sosa for her everyday assistance with translation services, case management referrals, and other important support functions. June joined PCHC in 1993 as a pediatric nurse at our Allen Berry Health Center before being named Assistant Health Center Director. Today, it is in a patient room that she is most comfortable.
"It is important to be there to answer a question the parents may have about a newborn who is up most of the night fussing or just feeding frequently," said June. "Parents are often sleep deprived and are looking for the right information about what is considered normal. I am there to offer reassurance that our team at PCHC is always a phone call away."
The PCHC President's Award was created to recognize employees who are exceptional in demonstrating our core values while serving as a role model for others. June was nominated by five co-workers, one of whom wrote: "There is no way we could do what we do with the large number of patients at Women & Infants without June."
Congratulations to June on this well-deserved honor.