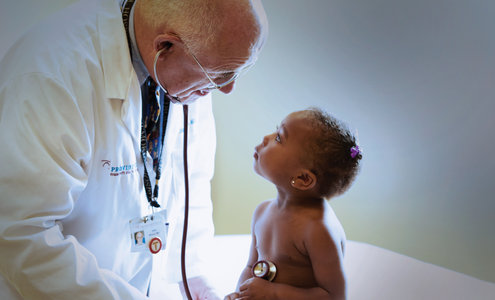 Pediatric patient fund established in memory of the late Dr. John Moran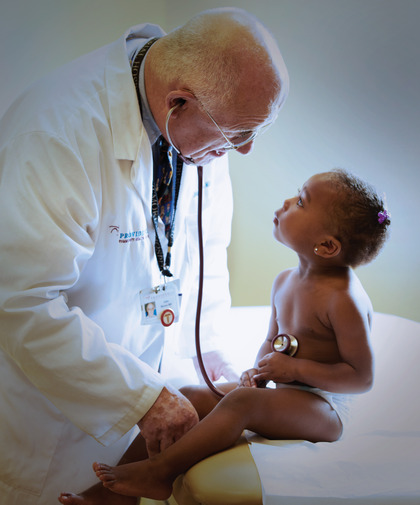 In 1973, Dr. John Moran joined the Providence Ambulatory Health Foundation as its first full-time physician. It was a leap of faith as the very existence of this new concept – community health centers -- was under political fire from the Nixon administration. Still, Dr. Moran accepted the offer to become the first full-time physician at what would evolve into the Providence Community Health Centers (PCHC).
He was just 30 years old.
"John took a chance when not many would," said Dr. Andrew Saal, PCHC's Chief Medical Officer. "He made it possible for other physicians to see that you could make a career working in community health."
Dr. Moran, who passed away on May 5, 2021, spent 47 years providing superlative care to thousands of children and adolescents. He worked his entire career for PCHC and had a rich social life where he enjoyed family, friends, music, skiing, boating, and much more.
But first and foremost came his dedication to children and families.
"John had boundless energy and loved his job," said Dr. Ellen Gurney, a fellow pediatrician at PCHC. "But beyond medicine, he was the rock of the Pediatric Department. If there was a blizzard and people were stuck shoveling in the suburbs, John would walk from the East Side to round on newborns. When there was a crisis and we needed a doctor to cover a shift, he was there. And he didn't resent that. It was one more chance to take care of the people and patients associated with Providence Community Health Centers."
Later this year, PCHC will dedicate the new addition to its Capitol Hill health center in John Moran's name. It is fitting as this is where he spent much of his career. PCHC has also established a memorial fund in Dr. Moran's name with donations to be used to improve pediatric care. To donate, please visit: https://www.providencechc.org/donate
"This is one way we can continue and honor Dr. John Moran's legacy of improving health care for children in Providence," said Merrill Thomas, President and CEO of PCHC.
"A practical working doctor who loved to solve kids' problems"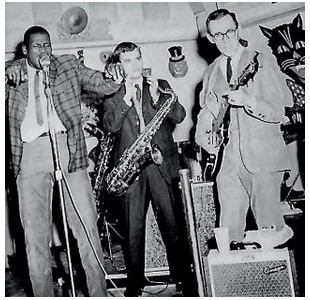 John Moran was born in Bridgeport, CT, and grew up in the rural town of Granby in Western MA, along with his sisters Patricia and Mary. He was the son of John F. and Helen I. Robinson Moran. John was an Eagle Scout and a gifted pianist who -- while an undergraduate at the University of Massachusetts at Amherst -- played bass guitar in a band fronted by Taj Majal, who went on to become a Grammy-award winning musician. (John Moran is pictured to the right in this picture of the band.) While music remained a passion for John Moran, it was in medicine where he found his calling.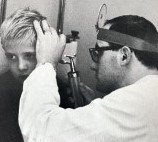 He graduated from Temple University School of Medicine in 1968 and completed his residency in pediatrics at the University of Rochester School of Medicine and Dentistry and Strong Memorial Hospital in Rochester, NY.
Bill Hollinshead met John Moran in 1968 as a resident in Rochester. Their relationship continued for more than 50 years. "There was a small group of us training in pediatrics, caring for sick children on both an inpatient and outpatient basis," said Dr. Hollinshead. "We had serious responsibilities and it was an environment where you had to learn rapidly."
While the two young doctors shared an apartment their second year of residency, they barely saw each other. Their rotations were long and often on opposite shifts. "We didn't get home much and when we did, we fell asleep immediately," said Dr. Hollinshead. "He was a practical working doctor who loved to solve kids' problems."
When Dr. Moran joined the United States Navy for a two year stint, he served as a pediatrician at the United States Naval Academy in Annapolis, MD. "He used to say he was a poor kid from Bridgeport treating Admirals' kids," said Dr. Hollinshead. "He started looking around for a more permanent place to work. He came to Rhode Island and was enthusiastic about working here. Providence was not a high status assignment. It was more like Bridgeport than Boston. But there were plenty of needy kids who needed care."
Dr. Stanley Block joined PCHC in April 1977 as Medical Director and met Dr. Moran, head of the Pediatrics Department, shortly thereafter.
"I have many fond memories of Dr. Moran: his love of pediatrics, his love of PCHC, his love of his patients at Capitol Hill, and most importantly, his love of teaching next generation medical students and residents," said Dr. Block.
A mentor to young providers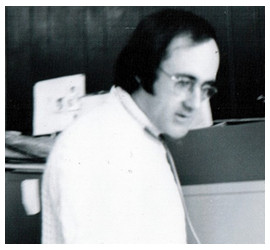 Dr. Moran was one of the primary reasons Dr. Beth Toolan came to practice medicine in Providence. As a first year medical student at Brown University, she was part of an "affinity group" where students were assigned to meet regularly with a local physician to work on a project. It was a way for medical students to learn while familiarizing themselves with the community where they now resided.
"I wanted to work in an underserved community and thought I would probably have to go to New York City to do so," recalls Dr. Toolan, who is now Chair of Pediatrics at PCHC. "John was really helpful in teaching me about PCHC and the need in this community."
After finishing her residency, Dr. Toolan joined PCHC and worked with Dr. Moran – then head of Pediatrics – at a number of PCHC sites including Allen Berry, Fox Point, Central, and Capitol Hill.
Dr. Pervez Khatib joined PCHC in 1997, fresh out of his medical residency. He describes Dr. Moran as a mentor who helped guide him through the initial uncertainties that accompany a young doctor working in a new community.
"This was my first job," said Dr. Khatib. "Dr. Moran was in charge of the Pediatric Department and helped me throughout my transition to that department. He was very dedicated and gave his whole life to medicine."
Dr. Moran was recognized several times for excellence in teaching, at the Warren Alpert School of Medicine at Brown University and Rhode Island Hospital among other places. The Rhode Island chapter of the American Academy of Pediatrics presented him with a Special Achievement Award for developing, with the Brown University Cross Cultural Health Affinity Group, a guide for interviewing Spanish-speaking patients.
Dr. Karen Ng met Dr. Moran when she started working at PCHC in 2001. It was her first job following her residency. "I was struck by John's dedication to his patients, to teaching and to the organization," said Dr. Ng. "I could not think where I would be in 4 years or 10 years or longer in my career. Colleagues like John who dedicated their professional lives to caring for the children of Providence and the surrounding communities were an inspiration. He will be missed by his patients, their parents, and by all of us here."
A lifelong learner
"John always worked really hard to stay up to date in his field," said Dr. Toolan. "He prided himself on that."
Physicians who passed the American Board of Pediatrics prior to 1988 were board-certified for life. Others who came later had to re-certify on a regular basis. Despite the fact that he didn't need to do so, Dr. Moran sat for the boards repeatedly.
"It wasn't just going and taking a test," said Dr. Boris Skurkovich. "It was projects and reviews and a lot of time and money. He just had this urge to learn. He was absolutely adamant about doing it. He said, 'Things change. It's important to stay current.'"
One field he never mastered was technology.
"He wasn't very proficient with computers or phones," recalled Dr. Skurkovich. "It was common for doctors to hire scribes to help them with Electronic Health Records but John was stubborn. He didn't want to delegate and wanted to learn how to do it himself."
Life outside of medicine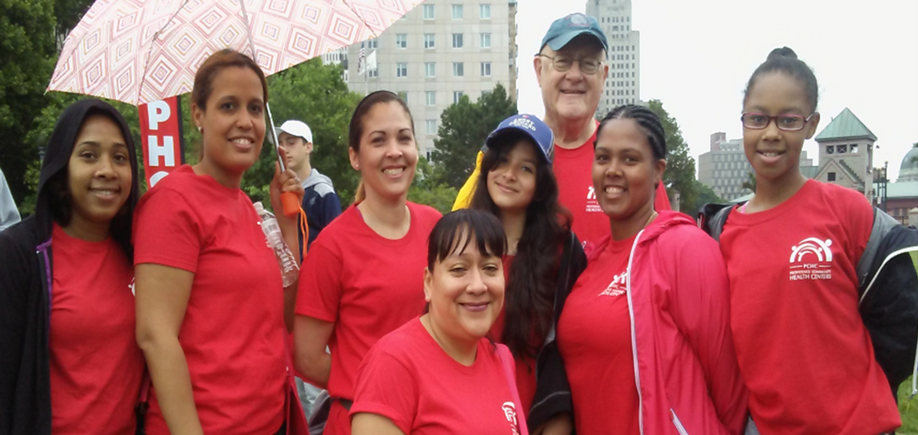 John Moran loved socializing and bringing people together who might not have ever met otherwise.
"He was a connector of people," said Dr. Jane Mackenzie Dennison. "Medicine was his life, for sure, but he balanced it with a wide variety of interests."
Music. Church. Ski clubs. Sailing. Brown University football. Super Bowl parties. Clambakes. Pig roasts. Name a social event and John Moran likely hosted it.
"He had so many interests that when you saw him on the street, you never knew what he would start talking about," said Dr. Dennison.
Dr. Toolan said John Moran loved being a host. "He used to take our staff to Apsara Restaurant and was always inviting people to his ski house to clambakes or to tailgate at Brown football games."
Music remained a passion. Dr. Moran was a gifted pianist and enjoyed performing for others at the Review Club and with Brown medical student musicians.
Dr. Dennison met John Moran during her residency when he was an attending physician. Later, they became colleagues. "I could always call and run things by him," she said. "He was always very available to young physicians."
In later years, their conversations mostly centered around skiing, hiking, music and other pastimes. "He was always looking to find out what made other people tick," she said. "And he was very generous."
Mary Jean Francis, a former pediatric nurse and current board member at PCHC, echoes that sentiment. "One day while I was his pedi nurse at Central Health Center, I was collecting money for a summer camp for children with diabetes," she recalls. "When I approached John for a donation, he immediately took his wallet from his pocket, opened it to me and said 'How much do you want?'"
Mary Jean remembers Dr. Moran as both special and unique. "The picture of him with that curious child is my favorite of all PCHC pictures," she said. "I am sure that John and Bach are playing on the same stage now - perhaps even a duet!"
A lasting impact
Dr. Skurkovich said his colleagues at PCHC may not realize Dr. Moran's continued impact.
"He was here for so long that a lot of the culture and the way we do things were influenced by him," said Dr. Skurkovich. "He was never shy in expressing his opinion about how to do things. And the other incredibly significant impact was in the number of patients he cared for over the decades. He had a huge panel of patients and saw thousands of children and families. There are generations of families that he took great care of and that work is still felt to this day."
Dr. Moran also improved the overall health of Rhode Island through his work with Dr. Peter Simon and others on screening, treatment, and mitigation related to children exposed to elevated levels of lead.
"He was the quintessential health center doctor," said Dr. Toolan. 'He gave his life to the community he cared about. This was his life."
Dr. Toolan thinks Dr. Moran would be pleased about the renovations to Capitol being dedicated in his honor. "He was very modest, but I know he appreciated being recognized," she said.
Recognition wasn't what drove him, however, over the course of nearly five decades.
"John's whole idea was to be a very practical caregiver who helped needy kids and families," said Dr. Hollinshead. "He would not have considered or been happy in a Barrington practice. From the very beginning, he was oriented towards working in organizations that served poorer kids."
"Dr. John Moran stands as one of the most impactful figures in the history of Providence Community Health Centers," said Merrill Thomas. "He will be remembered by hundreds of colleagues for his dedication and thousands of families whose lives he helped improve."