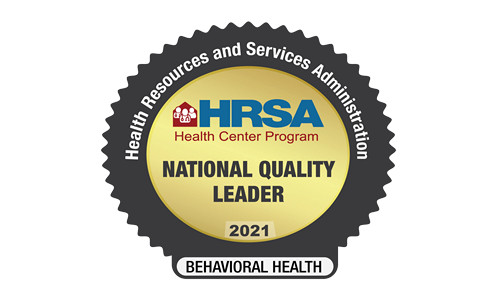 PCHC recognized for outstanding quality with special recognition for Integrated Behavioral Health
The Providence Community Health Centers is the recipient of six Community Health Center Quality Recognition awards from the Health Resources and Services Administration, including recognition as one of the country's top performing providers of Integrated Behavioral Health.
Providence Community Health Center's Integrated Behavioral Health program was one of only 17 National Quality Leaders recognized. This distinction is rare, awarded to less than 2% of all health centers in the country. Providence Community Health Center was the only health center network in Rhode Island to receive the National Quality Leader distinction.
Providence Community Health Centers was also recognized with the following:
The silver Health Center Quality Leader: Recipients of this award have achieved the best overall clinical quality measure performance among all health centers.
Advancing Health Information Technology for Quality: These health centers meet all criteria to optimize HIT services that advance telehealth, patient engagement, interoperability, and collection of social determinants of health to increase access to care and advance quality of care.
Patient Centered Medical Home Recognition: This award recognizes health centers with PCMH recognition in one or more delivery sites. All eight of our health centers received this recognition.
This year, COVID-19 awards were introduced to recognize health centers' contributions to the public health emergency response in the areas of data collection, testing, and vaccinations. Providence Community Health Centers received recognition in the following areas:
COVID-19 Data Reporter: Recognizes health centers that supported data for public health emergencies with response rates of 90% or more to the weekly Health Center COVID-19 Survey from April 10, 2020 to July 2, 2021.
COVID-19 Testing: Recognizes health centers that tested more than 50% of their 2020 patient populations from April 10, 2020 to July 2, 2021 and have a response rate of at least 50% to the weekly Health Center COVID-19 Survey.
"In a year with unprecedented challenges, the PCHC team delivered on our promise to provide superlative high-quality care to people in our community," said Merrill Thomas, President and CEO of Providence Community Health Centers. "We are especially proud of our Integrated Behavioral Health program, which was recognized as one of the best in the nation. The prestigious National Quality Leader Award highlights years of innovative work by the clinicians, team members, and leadership of the IBH department."
Primary care settings have become a gateway for many individuals with behavioral health and primary care needs. To address these needs, primary care providers integrate behavioral health care services into their practice settings. Health centers provide both mental health and substance use services including:
Screening for mental health and substance use disorders
Developmental screenings
Counseling and psychiatry
Medication assisted treatment for substance use disorders; along with guidance related to detoxification and recovery support
The Community Health Center Quality Recognition awards recognize health centers that have made quality improvement achievements in the areas of access, quality, health equity, and health information technology. Every year, HRSA provides quality improvement awards to promote high-quality care, efficiency, and value of the health care services provided by the nation's health centers, and to celebrate their recent achievements in providing high-quality care to nearly 30 million patients.