PCHC Partners with Providence Fire Department EMS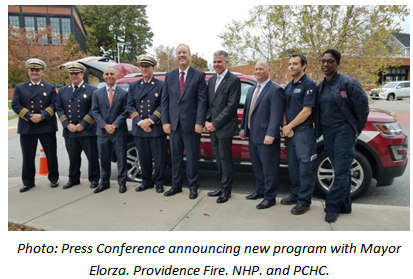 Providence Community Health Centers and Providence Emergency Medical Services (EMS) have launched an innovative program to transport non-emergent patients to PCHC Express instead of the local hospital emergency room.
Together with the City of Providence and Neighborhood Health Plan of Rhode Island, PCHC began piloting the program in October.
When a community member calls 911, Providence EMS determines if PCHC Express is an alternative treatment facility to the local Emergency room. After triaging the 911 call, Providence EMS dispatches a specialized team, Providence Mobile Health, to non-emergency calls. Providence EMS assesses the patient and communicates with clinical staff at the health center. The EMS and PCHC team work together to determine if the patient can be treated at PCHC Express, or if the patient needs to be transported to the local emergency room.
By transporting non-emergent 911 calls to PCHC instead of a hospital, the team can provide care to the patient at the facility that knows them best, keep EMS crews in service to handle other emergencies in the city, and create more capacity at hospitals.
"We are honored to collaborate with the Providence Fire Department on this innovative program," said Merrill Thomas, Chief Executive Officer. "Mobile health units play a crucial role in helping patients receive the right level of care at the right place at the right time."
PCHC Express has a broad scope of primary care services that can assist patients with symptoms such as wheezing or shortness of breath, vomiting, dehydration, moderate flu-like symptoms, sprains and strains, and small cuts that may require stitches.
"PCHC has been serving the community for over 50 years. Driven by a mission to provide high quality, accessible, patient-centered care regardless of cultural background, social barrier, or ability to pay, the health center continually strives to develop new partnerships and programs to improve the lives of all Rhode Islanders," said Dr. Andrew Saal, Chief Medical Officer. "We are proud to partner on innovative projects such as this to help improve and transform healthcare in Rhode Island."
Related Links:
Mayor Elorza, Commissioner Paré and Health Care Partners Announce Mobile Health Unit