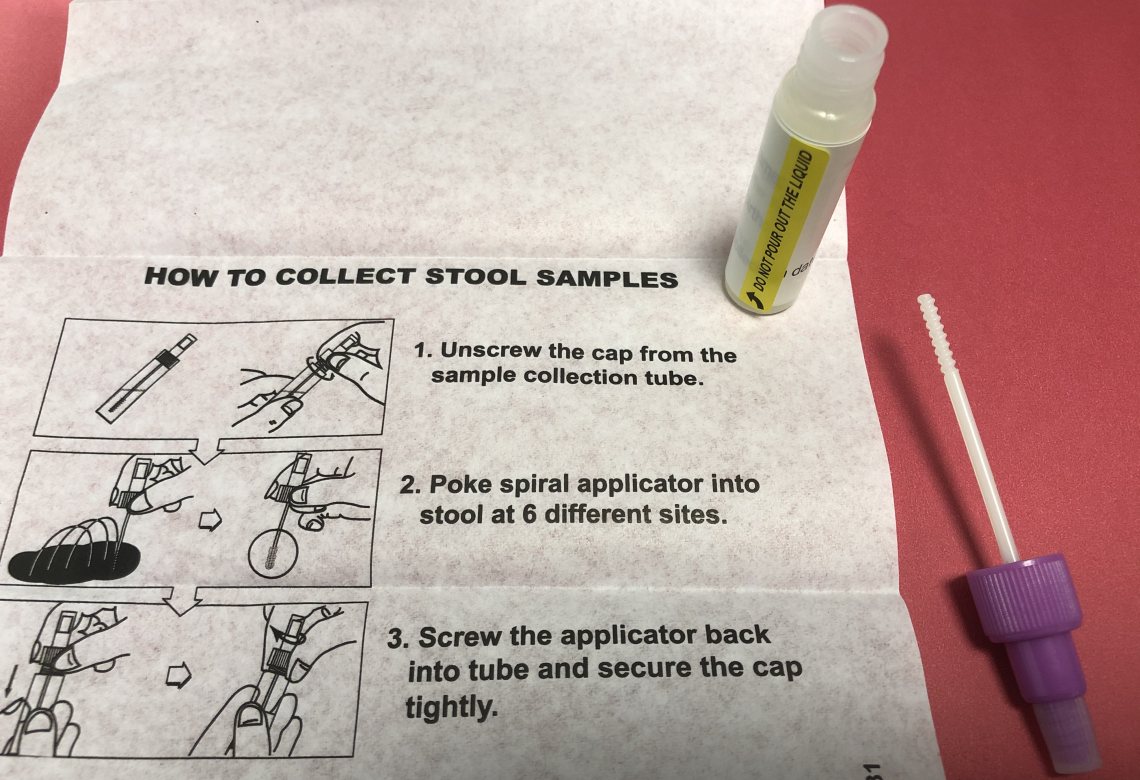 Since March, most routine health screenings have been delayed because of the COVID-19 pandemic. Providence Community Health Centers (PCHC) is creatively addressing the need for colorectal cancer screening with tests that are mailed to the patient's home, completed, and returned by mail to be tested in a laboratory.
The fecal immunochemical test (FIT) is an inexpensive, at-home colorectal cancer screening method that checks for traces of blood and proteins in the patient's stool that cannot be seen by the naked eye. Patients with suspicious test results are scheduled for a follow-up colonoscopy. About 1 out of 7 FIT tests results are abnormal, but an abnormal FIT test does not mean cancer is present, only that a colonoscopy is necessary to find out why there was microscopic blood in the stool. The first tests were mailed out by PCHC earlier this month, with a total of 3,700 patients currently in need of screening this year. Learn more about the tests here: https://www.providencechc.org/colorectal-cancer/
PCHC utilized data from its Electronic Medical Record to identify patients who needed screening and did not have a test ordered or had not completed a previously-scheduled test. While FIT is not as accurate as a traditional colonoscopy, it allows for effective screening in remote health care settings, making it very useful during times of mandated social distancing. FIT testing, in addition to being more acceptable to many patients, also frees up limited colonoscopy appointments for patients likely to need them, and the FIT test can be completed in the privacy of patients home – without taking a day off work or childcare and finding a responsible adult to escort you after the anesthesia used during a colonoscopy.
"At a time when most routine health screenings have been delayed, FIT screening is a valuable tool that allows us to continue screening at-risk populations for colorectal cancer," said Dr. Jonathan Gates, Chief Medical Officer for Accountable Care at PCHC. "Despite the COVID-19 pandemic, we must continue to find creative ways to advocate for disease prevention and detection. FIT testing is preferred by many patients who would not otherwise accept the more invasive colonoscopic screening."
The process in completing a FIT test is a simple one. A kit including a small stick and bottle are mailed to the patient's home. The patient uses the stick to obtain a small stool sample, which they place in the bottle. That sample is then mailed back to PCHC's electronically interfaced lab, East Side Clinical Laboratory in most cases. The test is then conducted in a laboratory with technicians searching for small amounts of blood in the stool that are often undetectable with the human eye.
FIT tests are only good for a year by U.S. Preventive Services Task Force guidelines; by contrast, a colonoscopy – if totally normal – is good for 10 years. But a one year reprieve from colonoscopy in today's world can make all the difference, using our limited colonoscopy appointments on the patients most likely to have abnormalities or colorectal cancer.
FIT testing isn't for everyone – patients with a family history of early colorectal cancer, those who have had irradiation to the abdomen, and those with past abnormal colonoscopies or known inflammatory bowel disease such as Crohn's disease or Ulcerative Colitis are not candidates for FIT Testing. Patients with hereditary genetic predispositions to colon cancer (HNPCC and Familial Adenoma Polyposis are two) also require colonoscopy as the only test.
Still, FIT testing is a useful tool in diagnosing colorectal cancer, which is the second-highest cause of cancer deaths in the United States. It is estimated that nearly 23 million adults aged 50 to 75 are past due for screening, and an estimated 53,000 Americans will die from colorectal cancer this year.