One of RI's "Best Place to Work" for seven straight years!
Providence Community Health Centers is proud of everything we do to make our neighborhoods healthier places to live. As Rhode Island's largest health center network. we are always looking for talented compassionate people to join our team.

Here are five reasons why you'll love being part of our team as we grow to meet the health care needs of our patients and community:

Job satisfaction: We have been voted one of Rhode Island's "Best Places to Work" for seven straight years. That's because our employees love what they do, knowing they are empowered to make a difference in the lives of the 80,000 people in our care.

Competitive wages and benefits: PCHC offers competitive and high-quality benefit programs based on eligibility. Those benefits include: Medical Insurance, Dental Insurance, Vision Insurance, Group Life/Accident Insurance, Short-Term/Long Term Disability Insurance, Supplemental Insurance Policies, Flexible Spending Account, Health Reimbursement Account, 403(b) Tax-Deferred Retirement Plan, paid Time Off, Paid Jury Duty Leave, FMLA leave, Military Leave.

Quality of worklife: If you work in a hospital or nursing home setting, you may be used to weekend, evening, or overnight shifts. At PCHC, our health center clinics are open until 8 pm two days a week; our only locations open on weekend days are our two Express clinics. That means more time for you to spend doing the things you love.

Clinical excellence: Providence Community Health Centers has been recognized as one of the nation's top clinically performing community health centers, receiving coveted "gold tier" status as a Health Center Quality Leader from the Health Resources and Services Administration, and further recognition for clinical excellence from other leading organizations.

The joy of teamwork: It feels great to know you are making a difference. Ask any of our 600-plus employees about the impact they are having in our health centers, neighborhoods, and schools.
Please refer to the Candidate Portal to review all of our open positions.
Providers - Please visit the Provider Recruitment page for more information.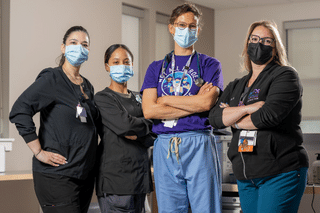 PCHC hires for many positions including:
Pediatricians, internists, family practitioners, nurses, nurse practitioners, certified nurse midwives and medical assistants. Our physicians are board certified.
Dentists, hygienists and dental assistants
Licensed Social Workers
Administration, Human Resources, Information Technology & Finance