Lactation consultations now available at PCHC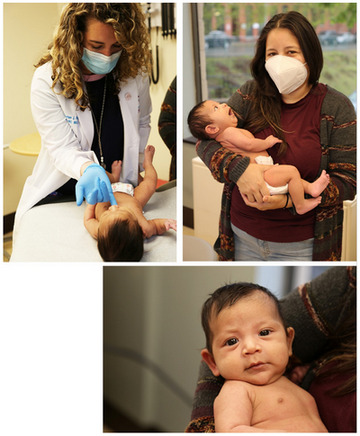 Breastfeeding has many proven benefits for both the newborn baby and mother. Providence Community Health Centers is now offering lactation health support provided by Kristen Hylan, MSN, FNP-BC, who is an International Board-Certified Lactation Consultant.
Kristen, who is Assistant Director of our Nurse Practitioner Residency program, is excited to help new parents with challenges related to breastfeeding. Lactation consultants can improve the outcome of breastfeeding and lactation care through education and management. They can help new mothers with nearly every conceivable aspect of breastfeeding.
"I like to focus on the parent's breastfeeding goals," said Kristen. "This could include a myriad of lactation-related issues like latch problems, tongue ties, poor weight gain, breast pain, low milk supply or over supply, mastitis, thrush, and candidiasis of the breast."
Kristen is pictured at the top left performing a suckle evaluation on baby Noellie. This is used to determine the newborn's coordination of tongue, lips, pallet swallow, and suction. The evaluation gives practitioners like Kristen helpful information about a baby's ability to transfer milk from breast to mouth.
Any of our patients who think they can benefit from lactation health support can ask their provider for a referral to see Kristen.