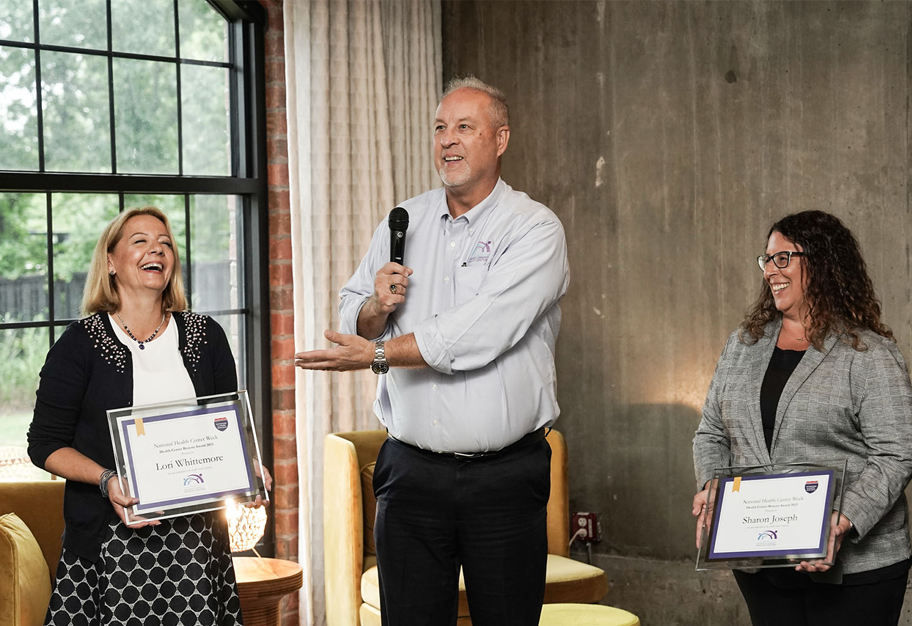 Lori Whittemore, Sharon Joseph honored by RI Health Center Association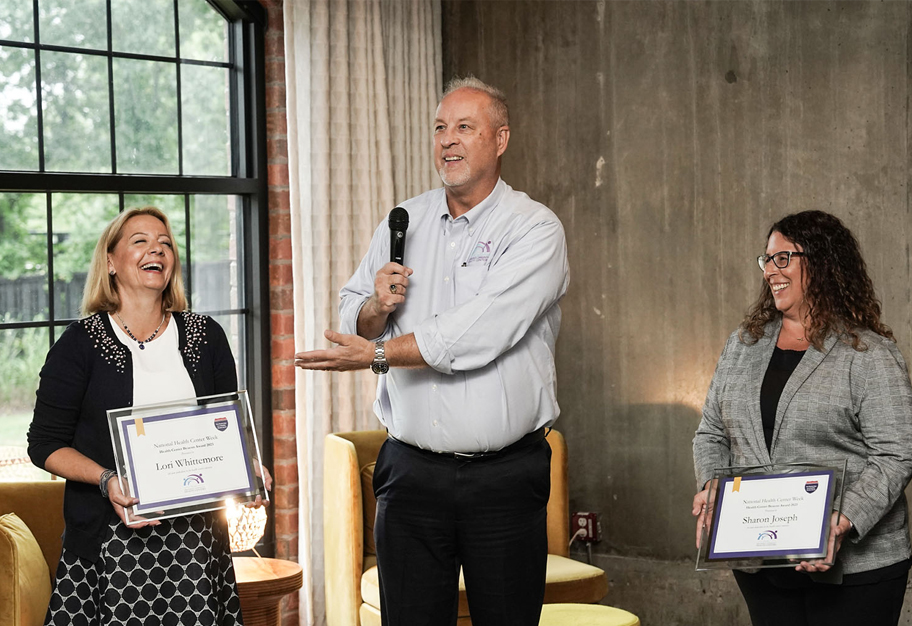 On August 17th, Lori Whittemore and Sharon Joseph of Providence Community Health Centers were honored with Rhode Island Health Center Association's Health Beacon Awards alongside other outstanding health center employees from Rhode Island. The event took place at NYLO Hotel in Warwick.
Sharon has been with PCHC for eight years and currently serves as Risk & HIPAA Privacy Officer and Director of Health Information Services. Lori, who is our Director of Patient Access Services, has been with PCHC for 22 years. They were joined at the awards ceremony by guests including Sen. Sheldon Whitehouse and the Executive Leadership Team from PCHC. Lori is pictured on the left with Sharon on the right as they are introduced by President and CEO Merrill Thomas.
In her nomination, Sharon was commended for "vastly improving our incident reporting, tracking, and trending, developing more robust medical and nursing peer review processes, and taking on additional responsibilities for ensuring ongoing FTCA compliance. Sharon keeps the patient at the center of all her efforts and always treats patients, families and teammates with respect and dignity." Sharon also collaborates with medical staff leadership on root cause analyses and leads action plans for individual, departmental, and systematic improvement. She is a key leader in the Epic migration project, leading the HIM Identity and Validation Work Groups.
As the Director of Patient Access Services, Lori leads the Call Center, Referrals Center, and Enrollment. In her nomination, Lori was recognized for leading PCHC's preparation for Medicaid Redetermination. Her nominator wrote, "Lori consistently keeps a positive can-do attitude and is always willing to jump in and assist in projects big and small. For the past few months, Lori has led two major work groups -- Referrals and Patient Access/Front Desk -- as part of our Epic Migration project. These two departments will undergo significant workflow changes with Epic implementation. There are many logistical hurdles to overcome, but Lori has met every challenge with determination and professionalism. Lori is truly an amazing asset to PCHC!"
The award was also presented to eight other federally qualified health center staff to honor employees who have been a beacon of strength, service, and care to their colleagues and to health center patients over the last year. The event is part of a national campaign held each August to increase awareness of how health centers provide affordable and quality medical, behavioral, and dental care in communities.