Millie Diaz first PCHC employee to graduate from College Unbound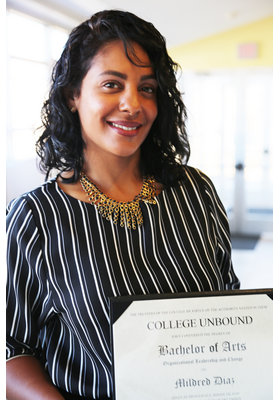 Millie Diaz, Medical Front Desk Supervisor at our Chafee Health Center, is the first Providence Community Health Center employee to graduate from College Unbound. Millie took part in her college graduation ceremony via Zoom on February 27.
College Unbound is an innovative, degree-granting college focused on adults seeking a Bachelor of Arts degree. PCHC offers tuition reimbursement to employees enrolled in the program.
Millie was among the first group of PCHC employees enrolled in College Unbound in September 2019. She received her associate degree from CCRI in 2018 and was enrolled at URI when she learned about College Unbound and decided it was a better fit. It took her three semesters and some summer classes to complete her bachelor's degree in Organizational Leadership and Change Studies.
"It was intimidating at first taking on full-time school with work and my personal responsibilities," said Millie. "What helped immensely was the support I received from school and PCHC."
Millie pursued her degree for the sense of personal reward. She is the second person on either side of her family to receive a bachelor's degree. "I've always been held to high standards, even as a child, and I felt I needed a degree to meet those standards," she said.
Millie joined PCHC in 2002 as a float patient services representative and held a number of positions before assuming her current role. Her ability to solve problems has led Health Center Director Michael Spoerri to refer to Millie as Chafee's "Chief Solutions Officer."
"I want other employees to know this is something they can accomplish," she said. "It is an opportunity for both educational and personal growth. After College Unbound, I see things differently in terms of my professional life. I recognize things in my work that I didn't before and I know my fellow students do the same."