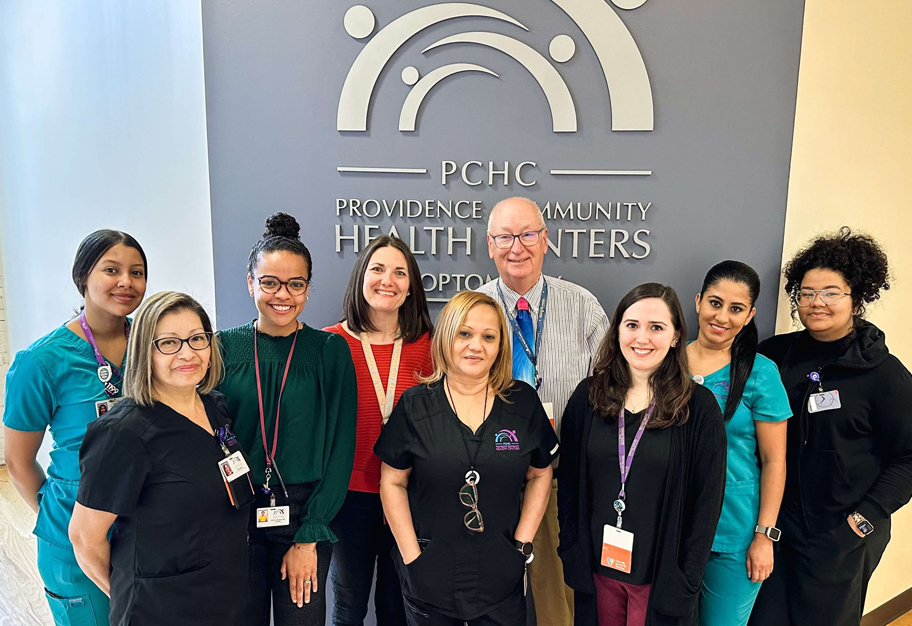 Optometry program celebrates 10-year anniversary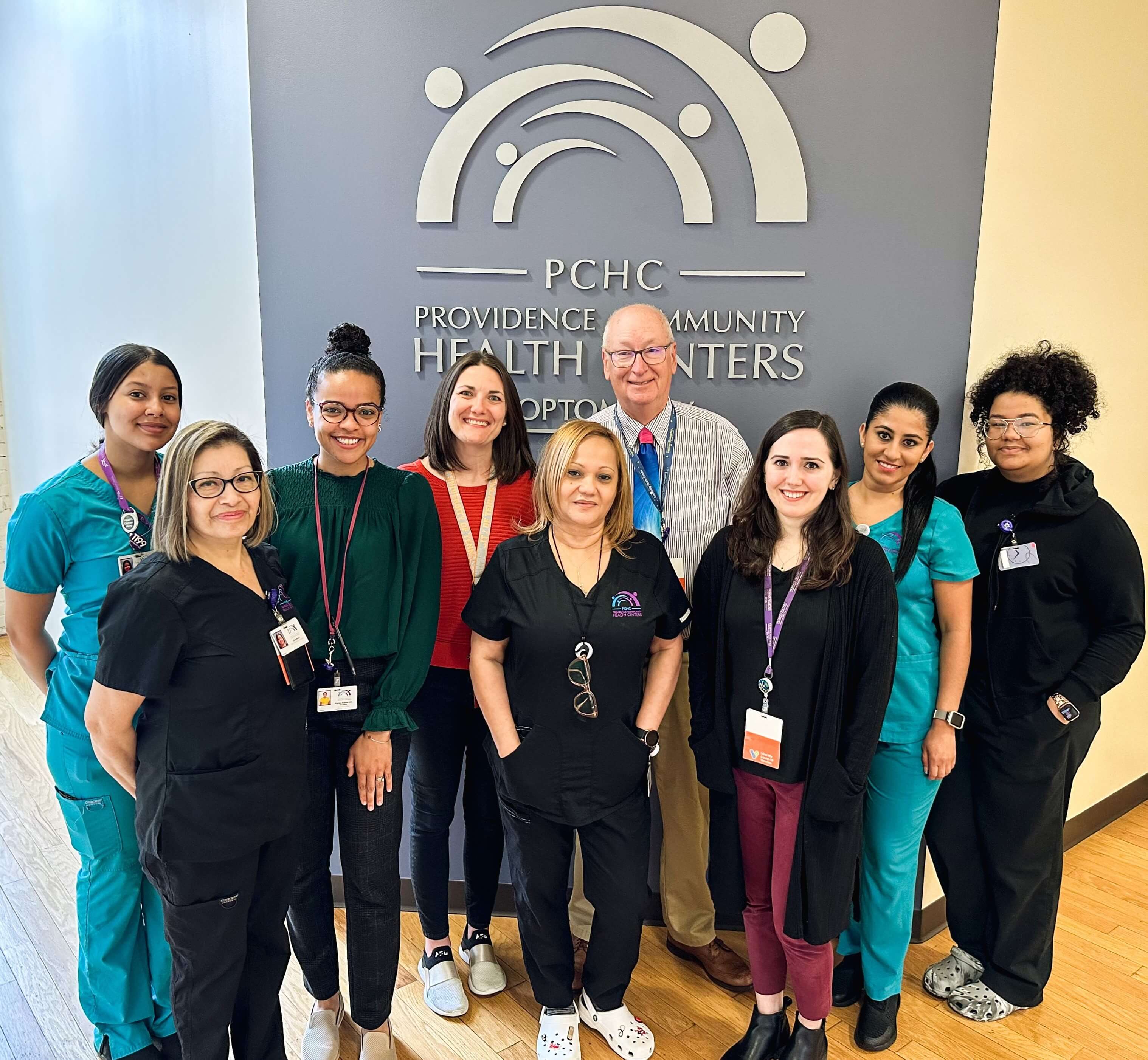 For a decade, PCHC's Optometry department has been a go-to resource for people in the community who might other­wise struggle to find quality eye care. This year marks the 10-year anniversary of our Optometry service, a good time to reflect on the team members who have contributed to its growth and success. "Thanks to support from executive leadership, we've been able to expand our hours including Saturdays while increasing the number of providers and stu­dents," said Dr. David Mills, Director of Optometry Services. "What I'm most proud of is that because of this collective work, more patients now have the opportunity to receive quality eye care."
The program's first provider was Dr. David Ferris, who was President & CEO Merrill Thomas' optometrist. Dr. Ferris joined PCHC in 2013, providing care with donated equipment two days a week in two rooms of the OB-GYN suite. It was not an easy journey as the state initially resisted the idea of PCHC opening an Optometry clinic. "It took over a year after we opened to finally get them to pay us," recalls Merrill. "We have shown that our patients have optometric needs that were not being met, and PCHC has made a tremendous impact in our community by adding these services."
"The early years of the clinic were fun, but frustrating at times," recalls Dr. Ferris. "It was difficult operating in such a small space but was also very gratifying to get the great sup­port from the medical community, especially Pediatrics and Internal Medicine. Once we were able to demonstrate how much eye care could contribute to patient care -- such as hypertension and diabetic diagnosis -- we began to see referrals increase monthly, which contributed to the growth of the program."
One constant over the last 10 years is Senior Health Care Assistant Elvia Rivera, who has been with PCHC since 2005. Elvia was excited at the opportunity in 2013 to help start a new clinical service line, joining Dr. Ferris as the first two Optometry staff members. To this day, she still does a little bit of everything from working in the clinic to manning the receptionist's desk when needed. Elvia even gives patients advice on which glasses look best on them! "When I go home at the end of the day, I am satisfied because I know the patients are happy," she said.
In 2016, when Dr. Ferris decided to move to even more of a part-time role, Dr. Mills was brought in to lead the Optometry Department. One of his biggest challenges was recruiting and hiring more staff. An approach that has helped immensely has been the growth of our teaching relationships with New England College of Optom­etry and the Massachusetts College of Pharmacy and Health Science. Our residency and teaching programs are a "win-win" for both the students and our patients. "Students get to learn about our patient population and how we run the clinic," said Dr. Mills. "It's good exposure to the real world of optometry. In turn, we try to give them as much as they can handle and always push them to do more."
For some perspective on how the program has grown, the number of patient encounters in 2013 totaled 732. This year, that number will reach close to 10,000. Merrill said the need in the community is prompting PCHC to even further expand its Optometry services this year. PCHC has a large population of diabetics, who can receive the appropriate medical care through early detection. Optometry's panel also includes a high percentage of patients under the age of 21. The Optometry Department works closely with our Accountable Entity and community outreach teams to hold regular screenings at local schools, knowing the impact poor vision can have on learning. Dr. Mills and his team are very resourceful in ensuring that children and adult patients get glasses, regardless of their ability to pay.
Thank you to all the past and present members of the Optometry team who have provided a much-needed service to the community over the past decade!