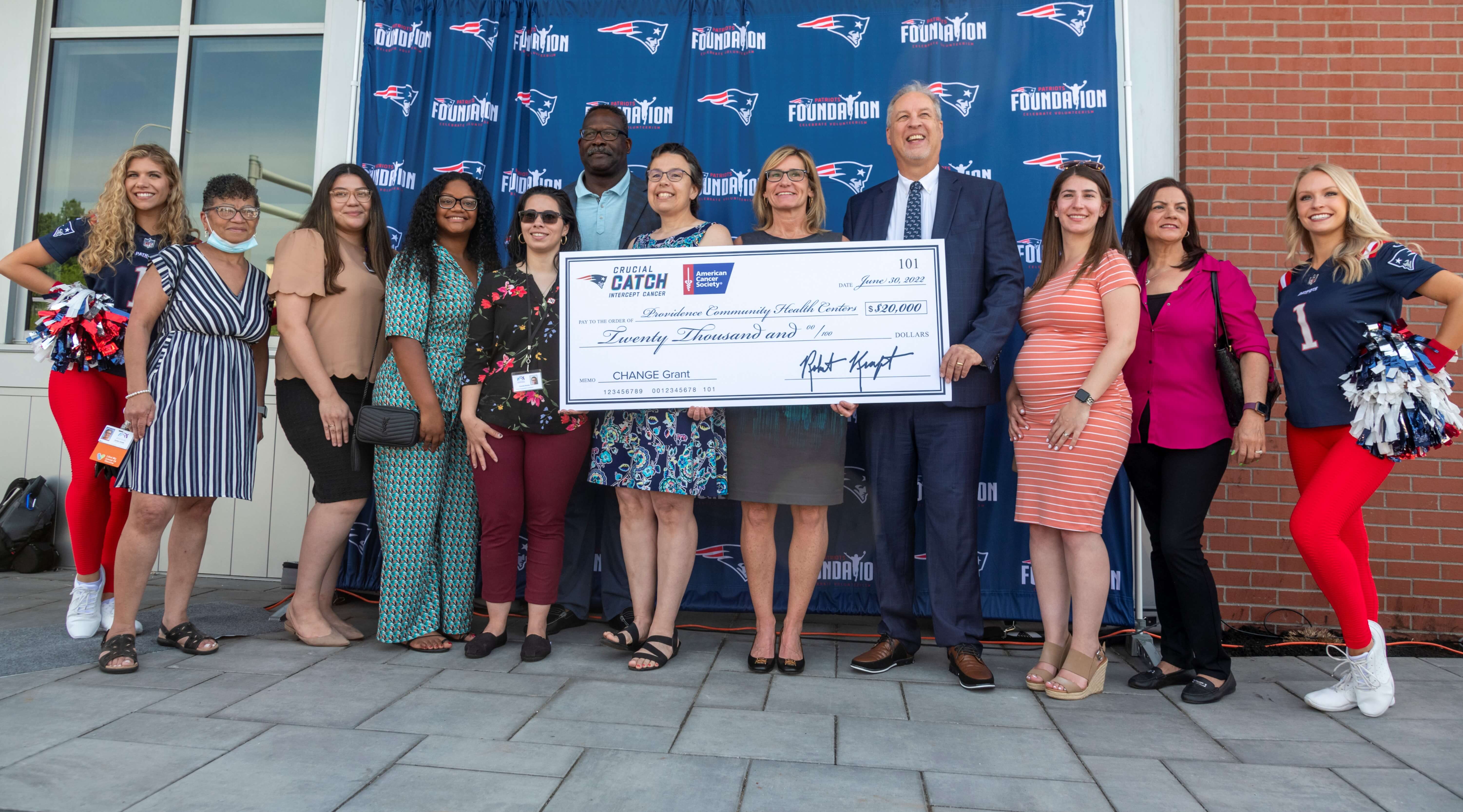 PCHC recipient of first Crucial Catch grant in RI
The American Cancer Society and New England Patriots Foundation have awarded a $20,000 grant to Providence Community Health Centers to safely increase breast cancer screenings over a 12-month period. The grant funding is made possible through the Society's partnership with the National Football League and the Crucial Catch campaign. PCHC is the first-ever Rhode Island organization to receive this grant.
The press conference announcing the grant took place on June 30th at the PCHC Atwood Health Center. Speakers at the event included breast cancer survivor and PCHC nurse Rachel DeBonis, PCHC President and CEO Merrill Thomas, Louise Santosuosso, Vice President, American Cancer Society, Dr. Nadine Hewamudalige, PCHC's Medical Director, and Andre Tippett, a member of the NFL, college football, and New England Patriots Halls of Fame. Tippett is the Patriots' Executive Director of Community Affairs.
Rachel, a nurse at our Asthma and Allergy Clinic, shared her personal experience with breast cancer screening, diagnosis, treatment, and how her story has encouraged others to get screened. At the event, several members of our Clinical Informatics, Population Health, and Grants Office teams including Dan McGuire, Urmiry Saldana, Graciela Morales, Zoraida Almeida, Demi Montoya, Katelyn Loyo, Ada Figueroa, and Denise Andrade were acknowledged for their efforts in securing the grant.
The grant is part of the Society's Community Health Advocates implementing Nationwide Grants for Empowerment and Equity (CHANGE), which provides funding opportunities as part of the Society's commitment to reduce cancer disparities.
According to the American Cancer Society, an estimated 287,850 new cases of invasive breast cancer will be diagnosed among women and 2,710 breast cancer cases in men. An estimated 43,780 breast cancer deaths (43,250 in women, 530 in men) will occur in 2022.