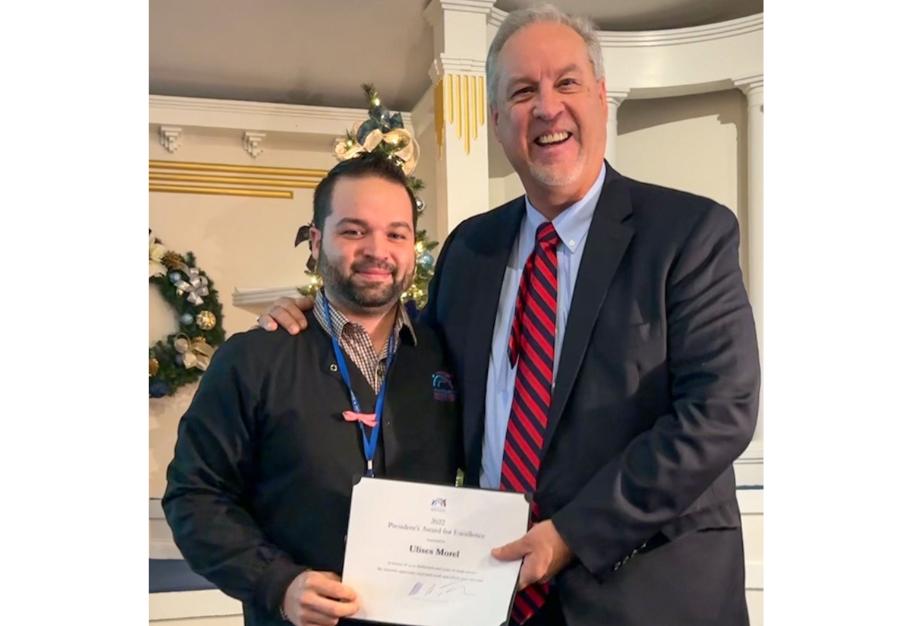 Ulises Morel recognized with President's Award for Excellence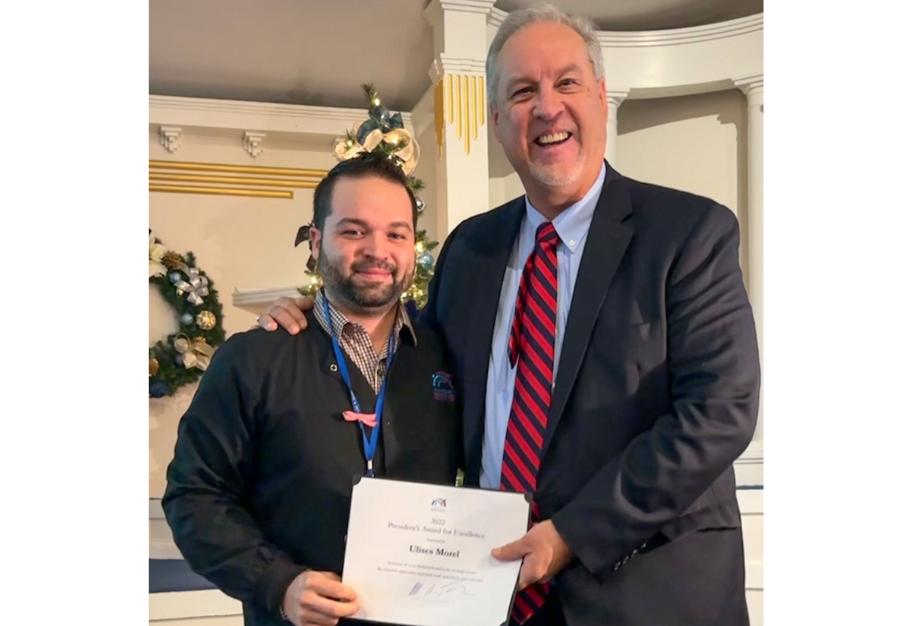 Ulises Morel's relationship with Providence Community Health Centers started when he was a young patient at our Olneyville Health Center. He never forgot the care he received as a child which is why Ulises was excited to join the same health center as an Internal Medicine nurse in 2017. One of the people who recommended him for the job was Dr. Pervez Khatib, who had been Ulises' doctor since he was 11 years old.
"Honestly, I could not believe I was given the opportunity to work at this great place as a newly-graduated RN," said Ulises. "It meant a lot as my family members and I had been patients at PCHC since the late 1990's."
At our organization's January All Staff meeting, PCHC President and CEO Merrill Thomas presented the 2022 President's Award for Excellence to Ulises, who now works in Case Management. The award recognizes employees who are exceptional at demonstrating our core values while serving as a role model for others. As our award winner, Ulises received a certificate of appreciation and a $1,000 gift card.
Some comments from his colleagues who nominated him: "Ulises exhibits all the qualities of an excellent Case Manager. He shows kindness and compassion to his patients. His day-to-day interactions with some of our more challenging patients never interferes with his mission of providing quality care."
"I have been a Case Manager for almost two years now and have learned much more about PCHC, specifically what we do to help our patients meet their needs, both medically and socially," said Ulises. "It's great to be able to provide support to those people who otherwise might not have a place to go."
At the All Staff meeting, Merrill recognized Ulises for "always demonstrating professionalism, integrity, trust, and an unwavering commitment to customer service and high quality patient care." He closed by saying, "We are thankful you are part of the PCHC team."
Congratulations to Ulises and thank you!