Medical Staff
Express Care
Providence Community Health Centers employs a highly-skilled, compassionate, and culturally diverse workforce of board-certified pediatricians, internists, family practitioners, nurses, nurse practitioners, and certified nurse midwives.
To make an appointment, please call 401-444-0404 or toll-free at 1-888-612-PCHC.
If you are a new patient, it may take time to get an appointment with the provider that you choose. For that reason, we suggest identifying two or three providers you would like to see in case your first choice is not immediately available. We look forward to caring for you!
Dr. Kate Williams received her Bachelor of Science degree from Cornell University and her Doctor of Medicine from University of Pennsylvania Medical School. She completed her residency at Brown University Family Practice. Prior to joining PCHC in 2016 as Medical Director of Express, Dr. Williams had many years of experience in urgent care, occupational health, and primary care. Dr. Williams participated in "Shoulder to Shoulder", a program that works to create and operate sustainable and accessible health, nutrition and education services in Honduras. Dr. Williams is fluent in Spanish. When not working, she enjoys reading, gardening, and hiking.
La Dra. Kate Williams recibió su Licenciatura de la Cornell University y su Doctorado en Medicina de la University of Pennsylvania. Completó su residencia en práctica familiar en la Brown University. Antes de unirse a PCHC en 2016 como Directora Médica de la Clínica Express de PCHC tuvo muchos años de experiencia en atención de urgencias, salud ocupacional y atención primaria. La Dra. Williams participó en un programa en Honduras llamado "Hombro a Hombro", que trabaja para crear y operar servicios de salud, nutrición y educación que sean sostenibles y accesibles. La Dra. Williams habla español con fluidez. Cuando no trabaja, le gusta leer, jardinería y senderismo.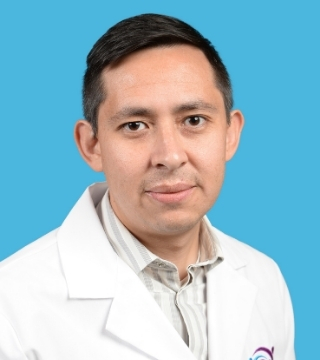 Express Care
Cesar Mora Jaramillo,
Associate Medical Director of
Express Care
Languages spoken: English, Spanish
Dr. Cesar Mora Jaramillo earned his Doctorate of Medicine and Surgery from Pontificia Universidad Catolica de Ecuador in Quito, Ecuador. He completed his Family and Community Medicine Residency at the University of Arizona Medical Center and joined PCHC in 2014. After 5 years of practicing primary care, he transitioned to PCHC's Express. Dr Mora is the Associate Medical Director of Express and has shared important information with the community, including media presentations. He assisted as Director of Content and Clinical Advisor for a non-profit organization that communicates with the vulnerable populations in Ecuador. In addition, he completed a Fellowship in Community Health Policy at George Washington University, serves on the Board Directors of the College of Urgent Care Medicine, Rhode Island Medicaid Clinical Advisory Committee, and joined Brown University as Clinical Assistant Professor. Outside of medicine, he enjoys running long distances, reading, traveling, and hiking with the two "four-legged family members".
Dr. Cesar Mora Jaramillo, recibió su título de Médico Cirujano en la Pontificia Universidad Católica de Ecuador en Quito, Ecuador. El Dr. Mora completo su residencia en Medicina Familiar y Comunitaria en la Universidad de Arizona y se unió a PCHC en 2014. Después de ejercer como médico de atención primaria por 5 años, actualmente él se encuentra otorgando cuidados médicos en la clínica de Express. El Dr. Mora es el Director Médico Asociado de Express y ha compartido información muy importante en la comunidad, incluyendo presentaciones en los medios sociales. Asistió como Director de Contenido y Asesor Clínico en una organización sin fines de lucro que comparte información con poblaciones vulnerables en Ecuador. Además, el Dr. Mora completo una beca en Política de Salud Comunitaria en la Universidad George Washington, es miembro del comité de asesoría clínica de Medicaid en Rhode Island y es Profesor Clínico en la Universidad de Brown. Fuera de la medicina, le gusta correr largas distancias, leer, viajar y explorar con los dos miembros caninos de la familia.