Where should you get care?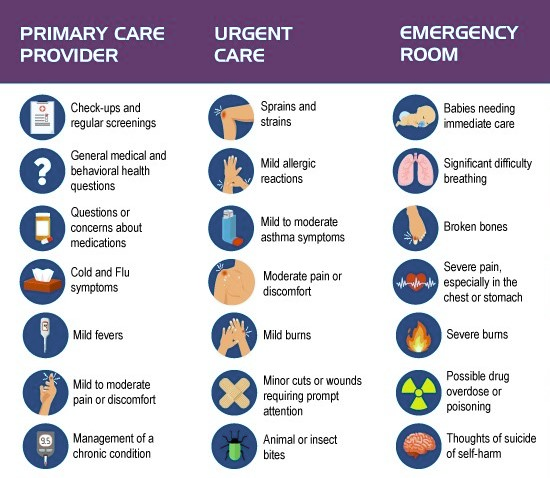 If you are looking for information about your visit, our locations, preparing for your visit, and more, please visit the "Your Visit" tab.
A guide to choosing the best place to get medical treatment.
An important part of staying healthy is getting care in the right place. Sometimes that's the hospital or emergency room; other times, it's an express care clinic or your doctor's office. By choosing the right place to receive care, you can avoid longer wait times and ensure a visit with the proper medical professional.
Here is a simple guide to help you choose where to receive care:
Doctor's Office
If it's not an emergency, call your primary care doctor's office first. Your doctor's team knows your health history, the medications you are taking, and has access to your electronic medical record. If you are a patient at Providence Community Health Centers, just visit www.providencechc.org/your-visit/locations for the phone number of your health center. You can also call our main number at 401-444-0400.
Express Care
If you need care outside of regular office hours, please visit our Express Care clinic at 355 Prairie Avenue. Express Care is open seven days a week with hours until 8 p.m. on weeknights. Here, our team treats illnesses requiring immediate care, but not serious enough to require an ER visit. This includes coughs, colds, flu, burns, sprains, and more. You can even call (401) 415-9000 for an appointment. To learn more, visit: www.providencechc.org/pchc-express
Emergency Room
Emergency Departments are designed to treat urgent, acute, and life-threatening conditions. They are not the place for routine care or minor ailments. If you are having a health emergency, call 911. If your condition is minor, call your physician or Express Care before going to the Emergency Room.
Behavioral Health
Providence Community Health Centers is home to an integrated behavioral health team that includes a licensed clinician and a bilingual advocate. Their goal is to support, guide, and treat the intersection of your medical, behavioral and social stressors. You can reach them for an appointment by calling your health center or discussing with your Primary Care Physician. This is not an emergency service. You should seek emergency care if you are feeling you will hurt yourself or others.
BH LINK: If you feel you are in a mental health or substance use crisis and you are not sure where to go for care, you can call BH LINK 24/7 for confidential support. Call 401-414-5465 (401-414-LINK)