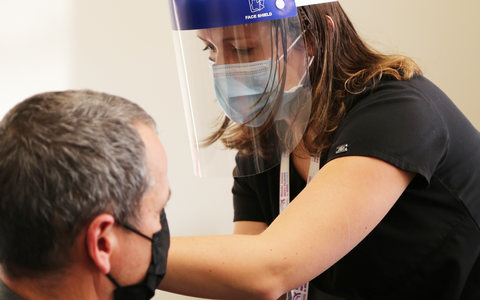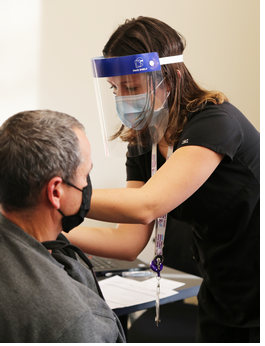 On December 29th, the Providence Community Health Centers began administering its first doses of the Moderna COVID-19 vaccine to frontline workers from its health centers. The vaccine is not yet available at health centers for distribution to the public.
The initial shipment of the vaccine from the Rhode Island Department of Health includes 300 doses which are first being distributed to employees who are in closest contact with patients including members of the dental team, Express Care, and those who work in the COVID testing tent.
At 8:10 a.m. on December 29th, dental hygienist Carleen Signore became the first PCHC employee to get the vaccine. Carleen, who has been with PCHC for 15 years, was excited to receive the vaccine. "While the process to approve the vaccine was fast-tracked, I feel confident knowing that clinical trials were successfully conducted to ensure safety and effectiveness," said Carleen. "I will encourage my co-workers and patients to get the vaccine."
Moderna's two-dose vaccine has proven to be 94% effective in preventing COVID-19 infections. As more doses of the vaccine become available, PCHC will offer it to its more than 500 employees, utilizing a tiered approach where frontline workers are immunized first.
Providence Community Health Centers has been a statewide leader in responding to COVID, opening the Rhode Island's first drive-through and walk-up testing sites in April 2020.