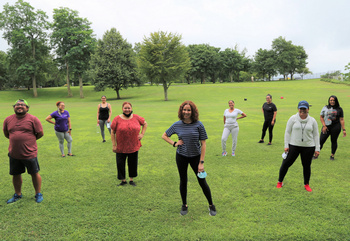 Every day, the health of individuals is impacted by their social status, stress, early life, economic opportunities, safety of community and workplace, and availability of quality schooling, food and transportation.
These social determinants of health (SDOH) are the economic and social conditions that influence individual and group differences in health status.
Our Community Health Advocate (CHA) team has worked aggressively to help patients address these issues. Most recently, our CHA's have partnered with RIHousing and ONE Neighborhood builders to place patients in long-term living situations, recently enrolling the sixth patient in permanent housing. Over the summer, the partnership enrolled its first family in housing, a mother and her three children who had been homeless for the past four years.
The CHA's role is to support the patient in their transition from homelessness to ensure they stay housed and engaged with their primary care team. The CHA assists with the lease signing, utilities set up, finding furniture/donations, checking in on rent payments, applying for SSI and SNAP, finding employment and transportation. They do this through weekly follow-up visits with the patients. Thank you to our CHA team for partnering with others to change the lives of people in the community.