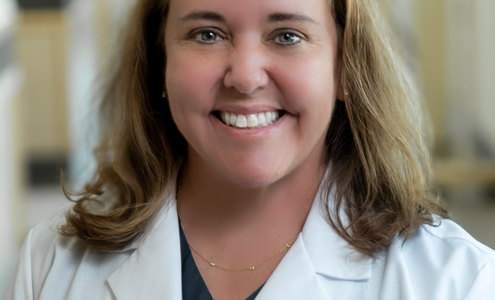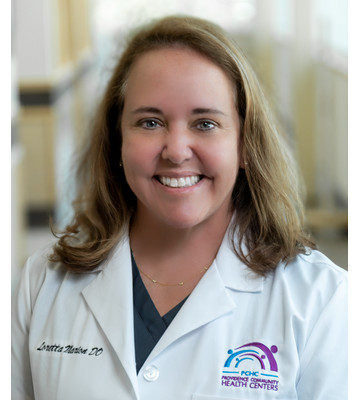 Providence Community Health Centers is now home to its first-ever full-time pediatric hospitalist, a physician dedicated to visiting newborns and parents in the hospital in the days following birth. Dr. Lori Marion joined PCHC in June, assuming this role to ensure newborns and families have the best possible care.
As PCHC has grown, so has the number of children delivered into our care. Dr. Marion joins June Carrara, RN, and community health advocate Yohana Sosa, PCHC staff that has been providing newborn education, recording prenatal histories, and performing other important functions for new families at Women & Infants for years.
Prior to joining PCHC, Dr. Marion held a variety of inpatient and outpatient pediatric roles, most recently as an Associate in General Pediatrics with Palmetto Pediatric of the Low Country in Hilton Head Island, SC, where she worked in an outpatient pediatrics clinic and rounded on newborns in the nursery daily. She completed her Residency in Pediatrics at Geisinger Medical Center in Danville, PA.
In a short period of time, Dr. Marion has learned the special bond between PCHC staff and the families in our care. "Collectively, our patients are so kind and appreciate receiving care delivered with respect," said Dr. Marion. "I'm proud to be part of a team that strongly believes that everyone deserves great care."
As the number of deliveries of PCHC babies grows, it has become more challenging for pediatricians to round (visit the hospital to see newborns and mothers) every day while also caring for a growing number of patients in our health centers. While our pediatricians still round, it is reassuring to families knowing that Dr. Marion, June, and Yohana are there to support them.
"Hiring Dr. Marion demonstrates our commitment to the whole care of families by assuring that our newborns have quality pediatric care from the start of life," said Dr. Beth Toolan, Chair of Pediatrics at PCHC.